Press Reactions
​
​
​
​
...about the concert on August 4, 2012 in Gensac, France
with Orchestre de Chambre de la Gironde:
​
​
​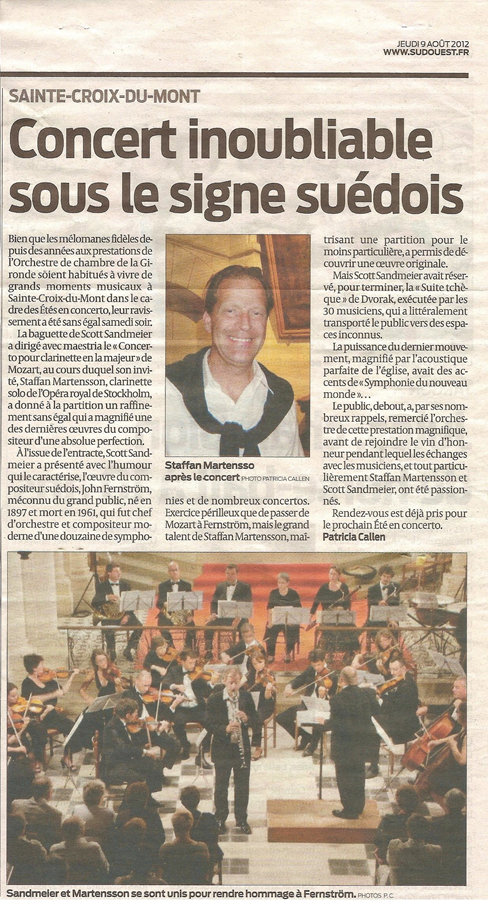 Translation:
​
"Unforgettable Concert in Swedish Spirit
Even if the music-lovers since many years are accustomed to grandiose musical experiences with the Chamber Orchestra of Gironde at Sainte-Croix-du-Mont, their enthusiasm on Saturday night was without comparison.
In the Mozart Clarinet Concerto, masterly directed by Scott Sandmeier,
Staffan Mårtensson, Principal Clarinet of the Stockholm Royal Opera, performed the solo part with an unequalled refinement that elevated the piece, one of the composer's latest, to an absolute perfection
After the interval, Scott Sandmeier presented with his characteristic humour, a work by the Swedish composer John Fernström, born in 1897, dead in 1960, conductor and composer of a dozen symphonies and several concertos. Although Fernström was perilously programmed after the Mozart, the great talent of Staffan Mårtensson, and his mastery to the closest detail of the solo part, permitted the audience to discover this original work. ( --- )
The audience gave standing ovations to this magnificent performance, after which an honorary wine reception was given, where the audience socialized with the musicians, especially cordially with Staffan Mårtensson and Scott Sandmeier."
Patricia Callen, "Le Sud-Ouest", 2012-08-09
​
¤¤¤¤¤¤¤¤¤¤¤¤¤¤¤
​
...about the jazz concert on July 27, 2012 in
Carlscrona Chamber Music Festival:
​
​
​
​
¤¤¤¤¤¤¤¤¤¤¤¤¤¤¤
​
​
...about the concert on April 4, 2012 in Bordeaux
with Wiener Concert-Verein:
"Staffan Mårtensson est suédois et non viennois mais son style classique et pur, dans le Concerto pour clarinette de Mozart, s'accorde très bien avec celui de l'orchestre. Aucune excentricité, aucun racolage. Sa longue clarinette de basset de la maison Buffet-Crampon lui permet de jouer les notes graves écrits par Mozart avec la même distinction que les aigus. Et dans le retour pianissimo du thème de l'Adagio, il ne rate pas le moment de grâce attendu. Mais il montre aussi en bis que son instrument bien élevé peut s'incanailler dans une improvisation debridée." François Clairant, Le Sud-Ouest
"Although Staffan Mårtensson is from Sweden and not from Vienna, his classically pure style of playing joins very well with that of the orchestra. No exaggerations, no vulgarities. With his long bassett clarinet, he played the deep notes of Mozart's original version with the same accuracy as the high ones. And when the Adagio theme returns in pianissimo, hed did not neglect to create a moment of grace. But in the encore, he showed that his instrument has a mischievous side in a unbridled improvisation." François Clairant, Le Sud-Ouest
​
"Staffan Mårtensson är från Sverige och inte från Wien, men hans klassiskt rena spelstil passade mycket bra ihop med orkesterns. Inga överdrifter, inga smetigheter. Med sin långa bassettklarinett spelade han de djupa tonerna i Mozarts originalversion med samma precision som de höga. Och när Adagiots tema återkommer i pianissimo försummade han inte att skapa ett ögonblick av nåd. Men han visade också i extranumret att hans instrument kan bli busigt i en lössläppt improvisation."

François Clairant, Le Sud-Ouest
¤¤¤¤¤¤¤¤¤¤¤¤¤¤¤
​
...about concerts in July 2011 with Camerata de Lausanne
in Nationalmuseum Stockholm, Mora Church, Örbyhus Castle:
​
Svenska Dagbladet, Stockholm:
"Bäst blev Webers klarinettkvintett med makalöst klarinettspel av Staffan Mårtensson, som dessutom gav ett jazzigt extranummer med "näktergalssång."
​
"The best piece was the Weber Clarinet Quintet with exceptional clarinet playing by Staffan Mårtensson, who also gave a jazzy encore with "nightingale singing."
​
----
Falu-kuriren, Falun:
​
"Klarinettspel av bästa märke (...) Kvällens största behållning blev Staffan Mårtenssons enastående insats i Webers kvintett. Verket har fyra satser av vilka den andra spelades utsökt lyriskt. Solostämman har ovanligt många virtuosa partier och Mårtensson behärskade alla suveränt, som bästa tänkbara representant för stolta svenska blåsartraditioner."
​
"Clarinet playing of the best brand (...) The finest gem of the evening was Staffan Mårtensson's outstanding performance in Weber's Quintet. The work has four movements, of which the second was played with exquisite lyricism.
Mårtensson was in superb command of the unusually many virtuoso passages of the solo part, a splendid representative of proud Swedish traditions in wind playing."
​
​
¤¤¤¤¤¤¤¤¤¤¤¤¤¤¤
​
...about a night at jazz club Crescendo, Norrköping in August, 2011:
​
​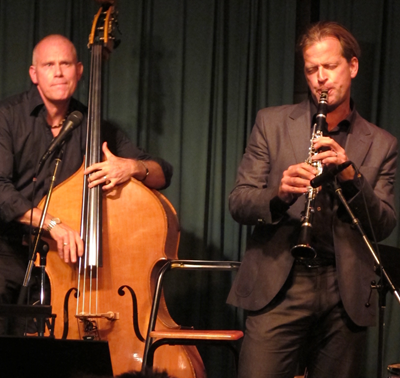 ​
Östgöta Correspondenten, Linköping:
​
"Det tänder till på riktigt när Staffan Mårtensson drömmer om jazz med sin klarinett. I Straight, No Chaser av Monk svär hans eleganta kostym mot de råa fräs, glidande lekar och folkmusikaliska falsettsvängar som han hittar i låtens grund."
​
"The atmosphere seems ignited when Staffan Mårtensson dreams about jazz with his clarinet. In Straight, No Chaser by Monk, his elegant suit stands in contrast to the sizzling raw, playfully sliding falsetto ethno-turns that he finds in the firmaments of the tune."
​
¤¤¤¤¤¤¤¤¤¤¤¤¤¤¤
​
Earlier reviews:
​
Expressen, Stockholm:
"Staffan Mårtensson har guld i klarinetten i Coplands klarinetkonsert."
"Staffan Mårtensson has gold in his clarinet in Copland's Clarinet Concerto."
​
Svenska Dagbladet, Stockholm:
"Mårtenssons spel är kraftfullt men också underbart lyhört för lystern i den musik han spelar."
"Mårtensson's playing is powerful, yet wonderfully sensitive for the lustre of the music he performs."
​
La Lettre du Musicien, Paris:
"Autre découverte pour les festivaliers, le Concerto pour clarinette de Copland, interprété par le Suédois Staffan Mårtensson. Le soliste profite du premier mouvement de l'oeuvre , tout en finesse et en douceur, pour révéler au public sa belle sonorité et son monde intérieur. Il poursuit par un morceau de virtuosité: celle de Copland est vagabonde, scintille de surprises. Rythmes, harmonies, mélodies, le propos musical est ici une cavalcade à couper le souffle! "
​
​
Kronen Zeitung, Wien:
"Höhepunkt des Abends war Roland Freisitzers "Bassett Clarinet Concerto", gewidmet dem Schweden Staffan Mårtensson, der makellose Technik und Virtuosität in den Dienst des Musikalisch-Schöne stellte. Eine Interpretation voll temperament und musikalischer Phantasie."
​
​www.resmusica.com 2007:
"… un clarinettiste dont le nom est a retenir: Staffan Mårtensson. La sonorité qu'il tire de son instrument est toujours souyeuse, l'articulation précise, le jeu très homogène dans les différents registres. Reconnu et célébré dans son pays et dans le nord de l'Europe en général, percera-t-il en France, pays jaloux de l'excellence de son école d'instruments à vents? Ce serait fort dommage qu'il n'y arrive pas."
​
​
Press images of Staffan Mårtensson >>​