​
Stockholm Chamber Jazz
New CD!
Released on Daphne Records:
​
Visit our homepage:www.stockholmchamberjazz.com
​
​
Three borderless musicians mixing jazz with classics,
Swedish folk music and klezmer.
Bach, Mingus, Monk, Fauré, Quincy Jones...
​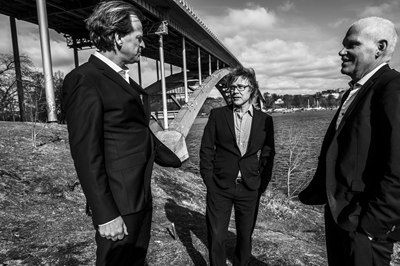 ​Photo: Carl Thorborg
This program has scored success in jazz clubs as well as
concert venues i France, Italy and Sweden.
​
​
​
Photo: Peter Fridholm
​
​
Staffan Mårtensson, principal clarinet of the Stockholm Royal Opera Orchestra, Winner of Swedish Grammy, international soloist in many styles, plays with orchestras from Vienna, Prague, Paris, Stuttgart, Lausanne, as well as with jazz groups or string quartets. Former Artistic Director of the Summer Night Concerts at Nationalmuseum in Stockholm and Present Artistic Director of the Östergötland Music Days.
​
Lennart Simonsson, jazz pianist, composer and teacher. Has performed in a variety of venues worldwide, ranging from the Stockholm City Theater to the David Letterman Show with Elvis Costello. Regular member of the Trio X of Uppsala.
​
Jan Adefelt, one of Sweden's most sought-after jazz bassists for radio, TV and studio recordings. Has toured with leading swedish jazz stars such as Monica Zetterlund, Alice Babs, Putte Wickman and Anders Widmark. teaches at the Royal College of Music in Stockholm.
​
​
​
Listen live on Youtube:
​
Jazz: Stockholm Sweetnin': www.youtube.com/watch?v=L2zx3aAcFIk
​
Baroque: Henri Eccles, Sonata: www.youtube.com/watch?v=8b8iLyiyT5E
​
Blues: Nostalghia in Times Square: www.youtube.com/watch?v=5m2hq5A_mug
​
Classical: Gabriel Fauré, Sicilienne: www.youtube.com/watch?v=WPhoQ6cHUIE
​
Klezmer: Papirosn: www.youtube.com/watch?v=Zg5zM685HXA
​
​
​
Download information in Enqlish/Swedish:
​
Kammarjazz-sv-eng-120430-3
​
​
​
Some press reactions:
​
​
​