Östergötland Music Days
​
Artistic Director - Staffan Mårtensson
​
​August 14-21, 2021
​
Some of Sweden's most celebrated musicians perform in concert halls, museums, churches and castles in the lovely province of Östergötland, about two hours south of Stockholm.
​
The festival's main cities are Linköping, Norrköping, Kinda, Vadstena, Åtvidaberg.
​
Classical music, jazz, lunch-time concerts, orchestra concerts, concerts for children.
​
Check out the program on the website:
​

​

​

​

Some souvenirs from earlier years:

​

​

Elin Rombo, Opening concert, Linköping Castle

​

​

​

​

​

​

​

​

​

​

​

​

​
​
​
| | |
| --- | --- |
| David Huang | ​ |
​
​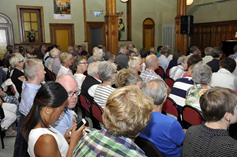 Rigmor Gustavsson and her audience.
​
​
​
​
​

Opening concert, Maria Fontosh

​

​

​

​

Ensemble Contraste
​
Final Concert. Septets by Berwald and Beethoven

​

​

​

​

​

​

​

​

​

​

​

​

​

​

​

Children's Concert,

Karin Haglund
​
​
​

Chat after the Final Concert...

​

Isabella Lundgren w Östgöta Jazz Band

​

​
​
​
​
​
​
​
​